The printing industry has undergone a remarkable evolution throughout the centuries, with technology progressing from the first printing press in the 15th century to the latest digital technology. A significant advancement in the industry has been the development of large-format printing, which has revolutionized the way graphics and designs are created on a much larger scale than was previously possible. This cutting-edge technology has become increasingly popular among businesses that require high-quality images for various marketing purposes.
Large-format printing offers numerous benefits, making it an indispensable tool for any printing business that desires to stay ahead of the curve. With large-format printing, companies can produce large-scale graphics that are high in resolution, sharp in detail, and eye-catching. This technology enables the creation of drawings with exceptional image quality, color vibrancy, and sharpness, making them ideal for use in various applications, including billboards, banners, trade show displays, and vehicle wraps.
In recent years, large-format printing technology has continued to advance, with innovations that enhance its capabilities. These advancements have made large-format printing more efficient, cost-effective, and environmentally sustainable. For instance, new printing technologies have enabled faster print speeds, higher print resolutions, and eco-friendly inks, making large-format printing an attractive option for businesses prioritizing sustainability.
Overall, the evolution of large-format printing technology has transformed the printing industry, providing businesses with innovative ways to create stunning graphics and designs that capture the attention of their target audience. As large-format printing technology advances, it is poised to become an even more essential tool for businesses looking to stay ahead in today's competitive marketplace.
Widens Your Printing Capabilities: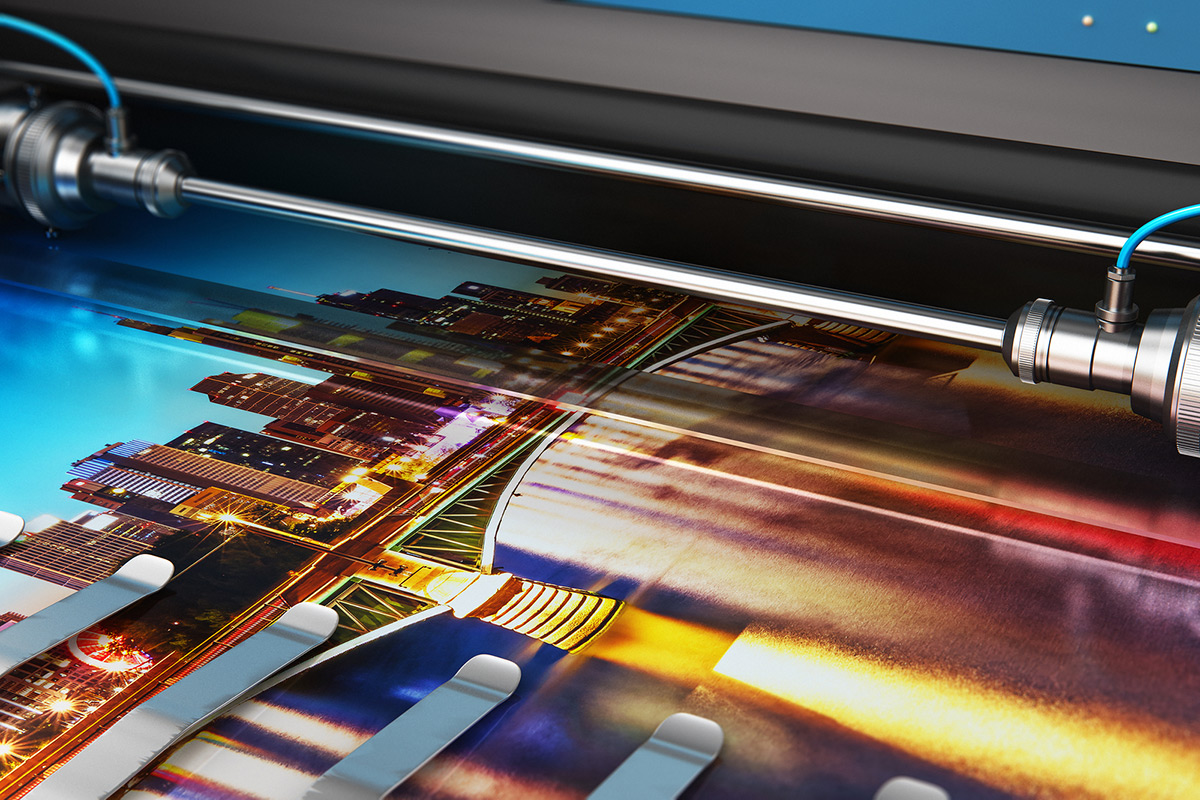 Expanding your print shop to include large-format printing can revolutionize your business. To handle intricate graphic designs, this unique printing requires state-of-the-art equipment. Investing in a top-notch wide-format printer can produce materials on a much larger scale than traditional business cards or postcards. With this cutting-edge tool, you can create eye-catching graphics in various formats, such as banners, posters, and murals. Integrating this advanced printing technology opens up possibilities for enhancing your business and advancing your marketing efforts.
High-quality Prints:

When it comes to creating visually striking prints, large-format printing is an excellent way to capture your audience's attention. Whether it's for banners or posters, it's essential to ensure that the colors are vivid, image resolution is high, and accuracy is on point. With the help of cutting-edge technology in large-format printers, you can now produce prints that are not only sharp but also crystal clear, leaving a lasting impression on your viewers. By utilizing high-quality materials and digital printing techniques, your prints will be incredibly detailed, vibrant, and able to convey your intended message with precision. Don't settle for mediocre prints when you can create stunning works of art that will stand the test of time and leave a lasting impact on your audience.
Versatile Printing:
Large-format printing is an incredibly versatile option that offers endless possibilities for printing graphics. This printing technique enables printing of odious sizes and formats without limitations, making it an ideal choice for businesses and individuals requiring high-quality prints. One of the most significant advantages of large format is on different materials, including fabrics, vinyl, mesh, etc. This feature makes it a versatile option for many applications, such as vehicle wraps, trade show displays, and window and floor graphics. Additionally, large-format printing provides stunning visual impact. It allows for excellent image resolution, making it an ideal option for businesses looking to make a strong impression with their advertising efforts. Overall, large-format printing is a reliable and effective printing technique that provides exceptional results for various applications. Graphics in var printing is its ability to print
Cost-effective:
It's a common misconception that large-format printing is an expensive undertaking. However, it is cost-effective when executed in bulk and with the correct settings. This printing technique is especially well-suited for long-term projects, as the graphics produced are highly durable and can withstand even the harshest weather conditions without fading or discoloration. These prints can last for years, making them an excellent investment for anyone seeking a reliable, long-lasting solution for their printing needs.
Competitive Advantage:
Adding a large-format printer to your printing business can be highly advantageous. It allows you to create prints of substantial size, setting you apart from competitors who lack this capability. This advantage can help attract potential customers with exceptional graphics and give you an edge over those limited to smaller print dimensions. The ability to produce larger prints opens up new possibilities and can help you expand your business in ways you may not have considered before. It's a game-changing move that can take your business to a whole new level.
In today's highly competitive printing industry, it's imperatives. Incorporating large-format printing into your business strategy can help you achieve just that. This technology enables you to produce high-quality, large-scale prints that impress your clients. With a large-format printer, you can execute a broader range of projects, from banners and posters to wall decals. Additionally, it offers unparalleled flexibility in materials and finishes, allowing you to customize your prints to meet your client's specific needs.his technology increases your capabilities but also saves you costs in the long run. By handling larger projects in-house, you'll avoid outsourcing fees and have greater control over your production timeline. Overall, investing in a large-format printer is an intelligent move business looking to expand its project scope, boost its earnings, and stay ahead of the competition. To have the edge over your rival vehicle wraps. Not only does t for any printing.